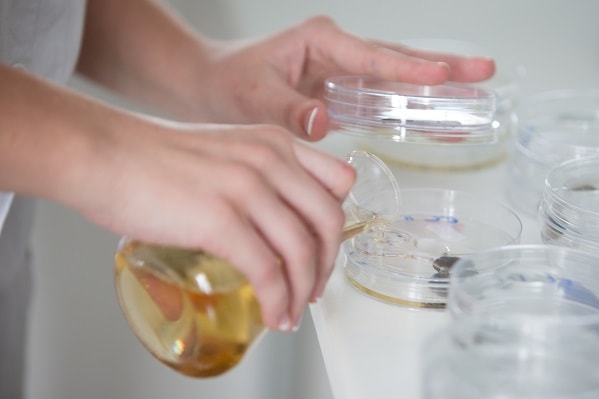 Our microbiological laboratory meets the strictest criteria for assurance of the quality of microbiological analyses and fully reflects current customer requirements and the requirements of authorities placed on the operation of a microbiological laboratory.
For the purpose of maintaining the temperature chain, we assure collection of samples using our collection vehicles, which are fitted with temperature-monitored fridges.
We use accelerated detection methods to determine pathogens, as well as standard cultivation methods, to increase the effectiveness of our services.
Pathogens analysis
Bacillus cereus
Clostridium perfringens
Coagulase-positive Staphylococcus
Salmonella spp.
Listeria monocytogenes
Campylobacter spp.
Pseudomonas aeruginosa
Shigella spp.
Staphylococcus aureus
Vibrio parahaemolyticus
Yersinia enterolitica
Indicator organism analysis
Coliforms bacteria (E. coli)
Enterobacteriaceae
Yeast and Moulds
Total Viable Count
Sample types include:
Drinks, water
Food
Ready to eat food
Swabs
Fallouts
In addition to routine microbiological analysis of food samples, we also offer the following services:
Shelf-life evaluation with standard storage conditions (refrigerated or ambient) or as required.
Environmental monitoring – using swab samples and fallout
Hand swabs
Water testing