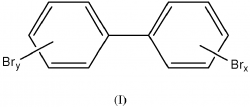 Figure: Molecular structure of hexabromobiphenyl
ALS offering for PBB testing
| | | |
| --- | --- | --- |
| Matrix | LOQ | Sample volume |
| Soil (22 compounds) | | |
| Sediment | | |
| Water | | |
Overview
As the name suggest these compounds are being used as flame retardants in a number of materials such as electrical appliances, textiles and foames.
Structurally PBB's are the brominated analogue to PCB, where the chlorine atoms are swapped with bromine.
The use of PBB.s are limited in Europe under the RoHS directive with a maximum concentration of 1 g/kg allowed in materials. Hexabromobiphenyl is included on the POP's list under the Stockholm convention.
Toxicity
Exposure to PBB's has been shown to have a number of negative healt effects including on the nervous system, immune system, liver, kidneys and thyroid gland.
PBB's are classed as a "possible carcinogen to humans" by the IARC.
Table 18: International threshold values for PBB